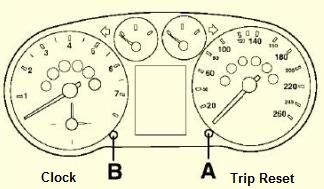 Kako poništiti Service Interval:
'Service OIL' 'Service INSP'
na VW VolksWagen Passat TDI - Pasat
1.Stisnuti tipku "A" i držati.
2.Stavi ključ u bravu dati kontakt.
3.LCD display pokazuje 'Service OIL'ili 'Service INSP'.
4.Otpustiti tipku "A".
5.Okrenuti tipku "B" u desno i držati dok ne pokažu tri crtice (---).
6.Postiti tipku "B" i izvaditi ključ iz brave.
7.Ponovno stavi ključ i to je to !!!